Balsam Fir Neroli Incense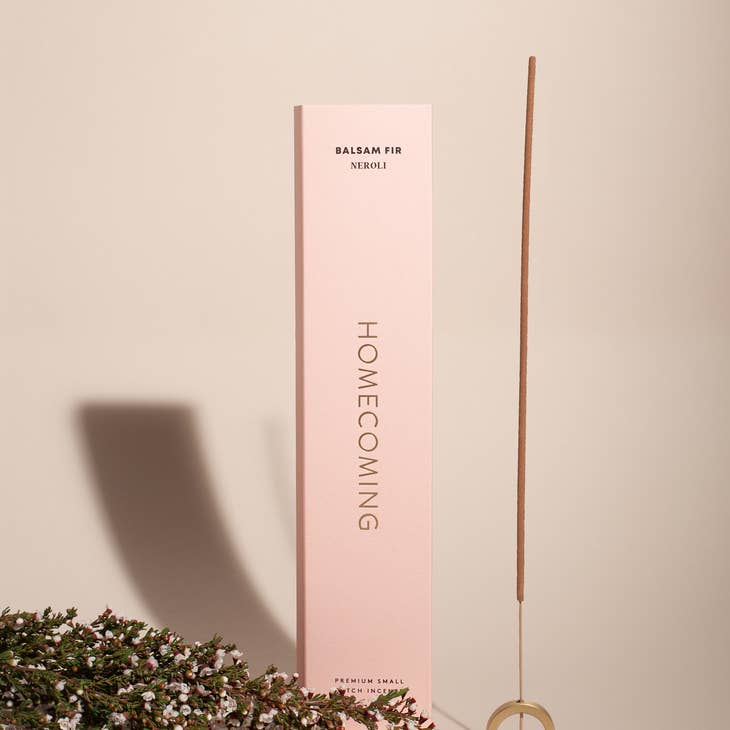 SCENT NOTES: Balsam, Bitter Orange, Jasmine, Clove, Moss

SYNOPSIS: A lush interpretation of green forest and warm citrus fruit.

The scent of balsam and bitter orange rise from beds of ancient moss in this reinterpretation of coniferous grandeur. Our Balsam Fir Neroli incense features the true-to-life scent of balsam, evergreen, and spruce punctuated by sweet jasmine, bright citrus, and cedarwood finished off with a touch of deep patchouli and clove. This is the stoic decadence of the forest twisted through a kaleidoscope and softened by clouds of smoke. Restorative, lush, calm.

INSTRUCTIONS: Light and burn for 15 seconds. Blow out and enjoy. Every box contains 20 hours of sensory bliss (1 hour burn time per incense stick)
WARNING: Always use caution when burning. Keep out of reach of children and pets. Use a fireproof holder and never leave incense burning unattended. Always store sticks in this box as the product may damage fabric, wood, or other surfaces.
Made in Canada
Dimensions: 10.3″ x 2.5″ x 0.5″ (26.2 x 6.4 x 1.3 cm)
Weight: 2.3 oz (66 g)

Homecoming incense is made from pressed wood and infused in-house using a blend of premium essential oils, phthalate-free fine fragrance, and dipropylene glycol, a synthetic base commonly found in body care and home fragrance products.
Eco-friendly information:

Packaging: Recyclable
Product Materials: Nontoxic, Plastic-free, and Vegan
Production: Cruelty-free

Free shipping for online orders totaling $100 or more!
For orders less than $100, a flat $6.95 shipping fee applies.
All items are shipped via USPS only in the Continental U.S.
Orders are processed within 1 business day of purchase, unless your item is marked backordered.
Orders are shipped via USPS priority mail and usually
arrive between 2-4 business days. 
In-Store Pickup or Local Delivery
Team Blonde will deliver FREE within 3 miles of our store. SAME DAY DELIVERY IS AVAILABLE - Please indicate all details in the notes.